Features
We have everything that you need all-in-one place
Website Monitoring
Monitor all the time and every time, from anywhere
Unlimited real-time alerts

Get alerted via phone call, SMS, Email, Slack, Web-hook, Slack and Telegram. Be the first one to know your site is down.

Continuous 1 minute checks

Each HTTP and ping-based response is verified through our server and algorithm before we proceed to alert you. No more false positives.

Share incident updates

Send status updates to your users via Email, Facebook, Twitter, Reddit and more.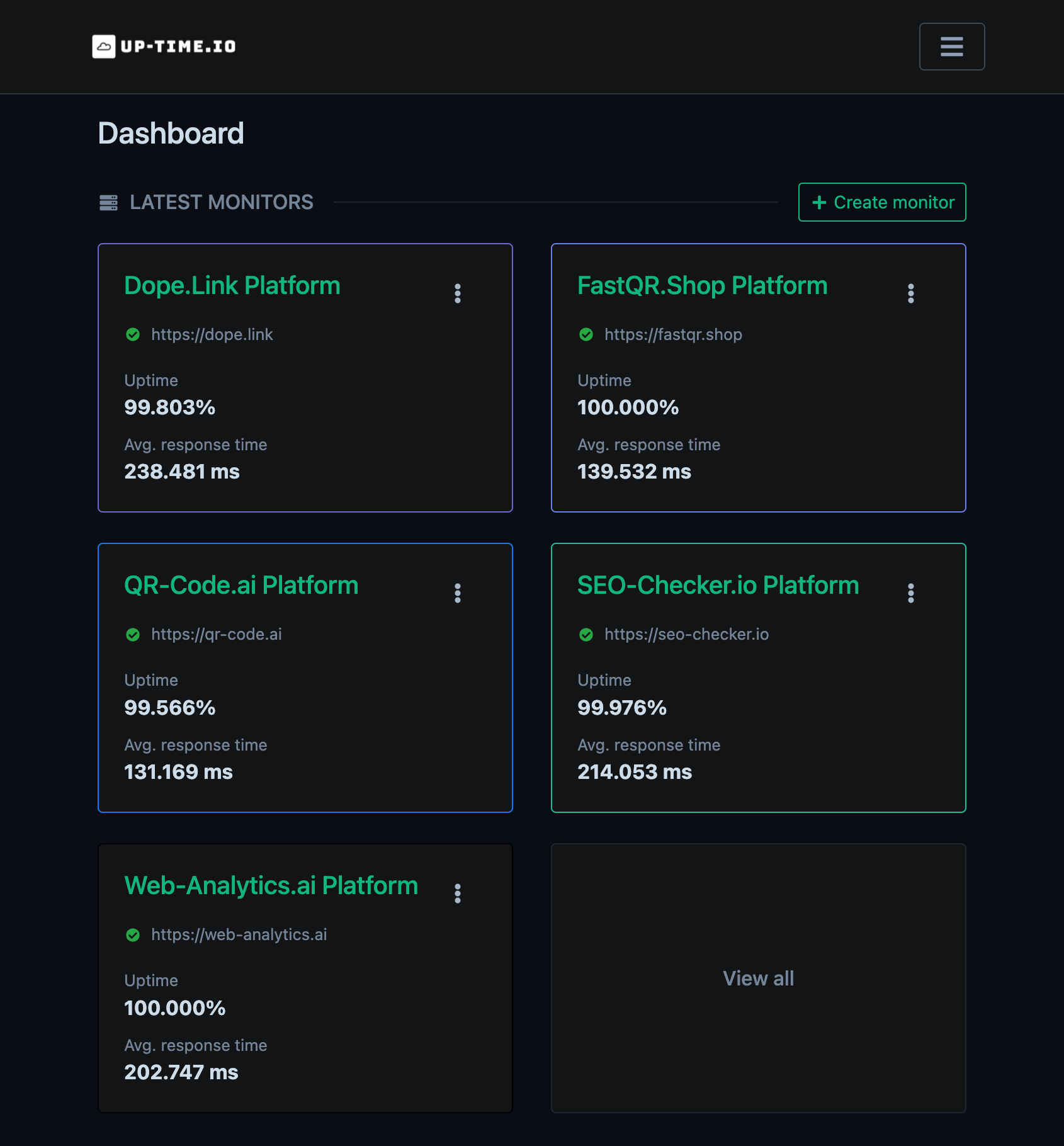 Status Pages
Get a beautiful branded status page
Display your monitors stats elegantly.
Customize colors, add your logo or even link your custom domain.
Allow your audience to see past incidents and the length of downtime.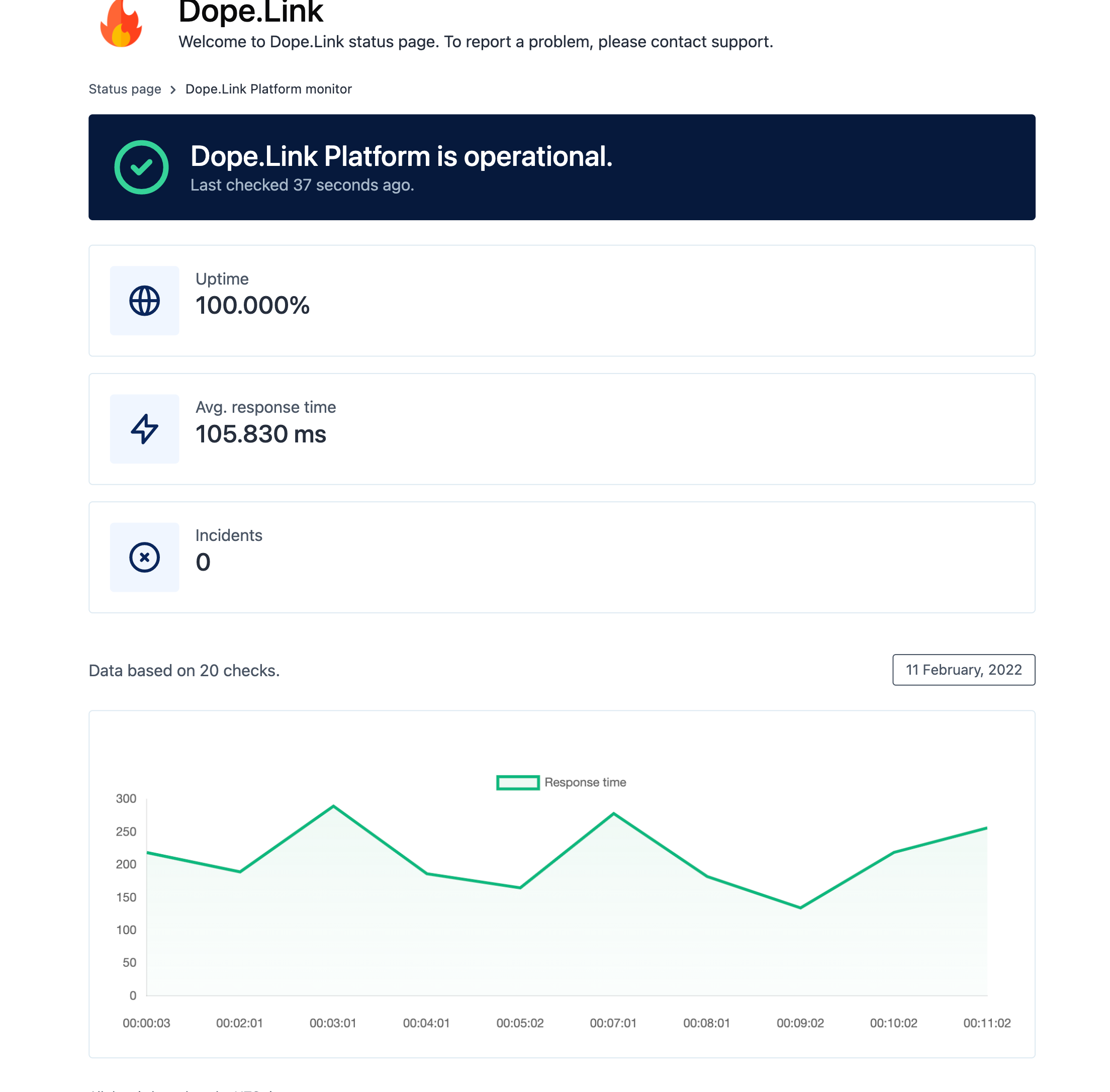 Incident Management
Reach the right person at the right time
Get accurate, moment-it-happens web downtime to any device that you use.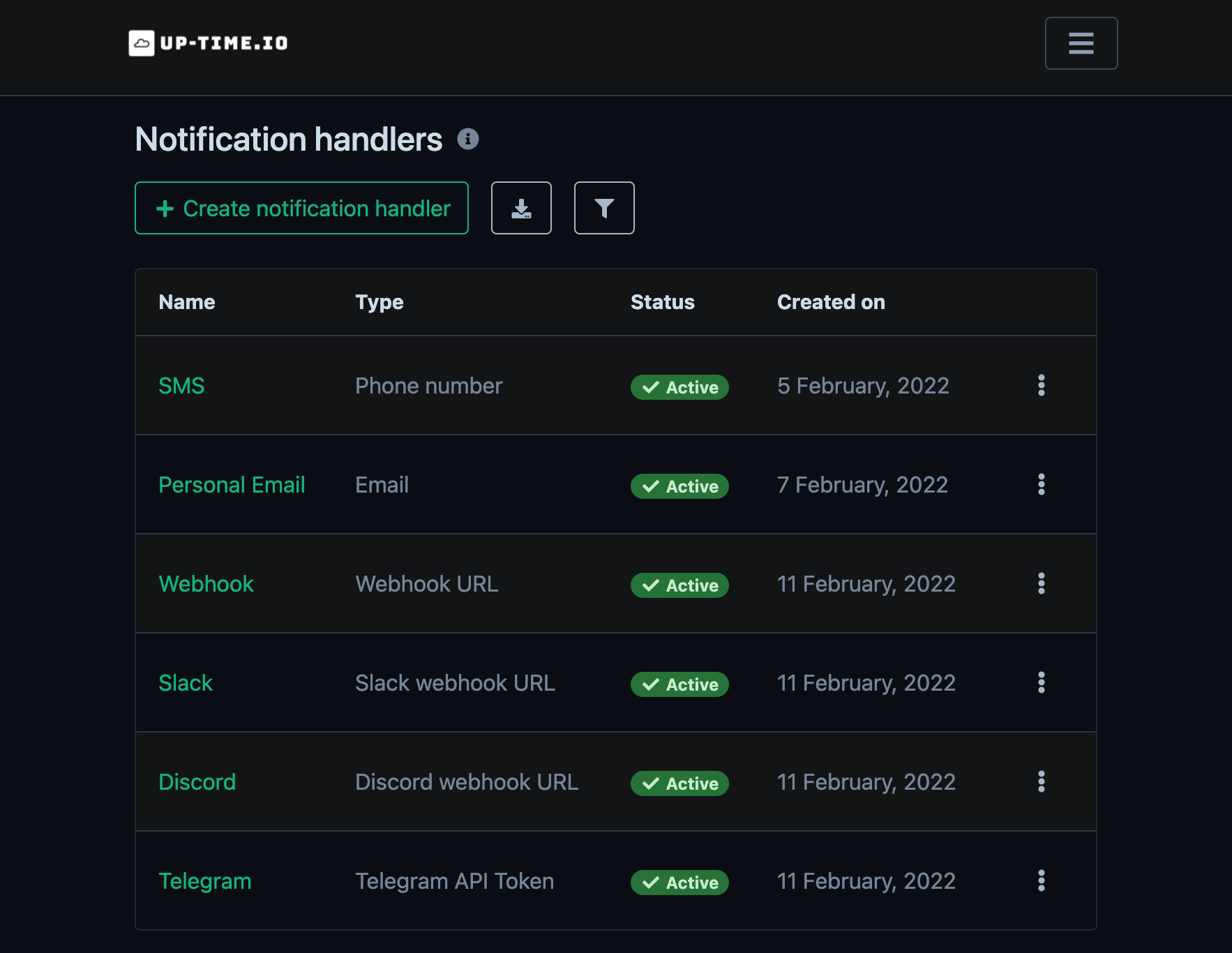 Others Features
Up-Time.io, we're here when you need us.

Custom HTTP requests
Request method, request body, basic auth & custom request headers.

Custom HTTP responses
Set & expect a certain response from your monitors.
Projects
Categorize your managed resources by creating separate color-labeled projects

Custom Domains
Connect your own domain or use ours.
Free
Perfect Way To Get Started
1 Monitor
1 Heartbeat
1 Domain Name
1 Status Page
1 Project
1 Custom Domain
Notification Handlers (Email, Slack, Discord)
7 days data retention
30 days status pages statistics retention
Status Page Analytics
Email Reports
Affiliate Access
Get Started
No card required, cancel any time
Pro
Perfect For Startups
50 Monitors
5 Heartbeats
5 Domain Names
5 Status Pages
5 Projects
5 Custom Domains
Notification Handlers (Email, Web-hook, etc)
14 days data retention
180 days status pages statistics retention
Status Page Analytics
QR Codes
Password Protection
Removable Branding
Block Search Engine Indexing
Custom CSS
Email Reports
API Access
Affiliate Access
Start 7 days free trial
No card required, cancel any time
Premium
Perfect For Growing Companies
100 Monitors
10 Heartbeats
10 Domain Names
10 Status Pages
10 Projects
10 Custom Domains
Notification Handlers (Email, Web-hook, etc)
30 days data retention
365 days status pages statistics retention
Status Page Analytics
QR Codes
Password Protection
Removable Branding
Block Search Engine Indexing
Custom CSS
Custom JS
Email Reports
API Access
Affiliate Access
Start 7 days free trial
No card required, cancel any time
Free
Perfect Way To Get Started
1 Monitor
1 Heartbeat
1 Domain Name
1 Status Page
1 Project
1 Custom Domain
Notification Handlers (Email, Slack, Discord)
7 days data retention
30 days status pages statistics retention
Status Page Analytics
Email Reports
Affiliate Access
Get Started
No card required, cancel any time
Pro
Perfect For Startups
50 Monitors
5 Heartbeats
5 Domain Names
5 Status Pages
5 Projects
5 Custom Domains
Notification Handlers (Email, Web-hook, etc)
14 days data retention
180 days status pages statistics retention
Status Page Analytics
QR Codes
Password Protection
Removable Branding
Block Search Engine Indexing
Custom CSS
Email Reports
API Access
Affiliate Access
Start 7 days free trial
No card required, cancel any time
Premium
Perfect For Growing Companies
100 Monitors
10 Heartbeats
10 Domain Names
10 Status Pages
10 Projects
10 Custom Domains
Notification Handlers (Email, Web-hook, etc)
30 days data retention
365 days status pages statistics retention
Status Page Analytics
QR Codes
Password Protection
Removable Branding
Block Search Engine Indexing
Custom CSS
Custom JS
Email Reports
API Access
Affiliate Access
Start 7 days free trial
No card required, cancel any time